Multiple Small Units (2008)
by
Lexy
MSU (Multiple Small Units) as a tactic in Warhammer originated as a tactic for dark elves.
The dark elves players noticed that they couldnít win combats head on and if they had units that could win combat head on, they had to win more times with that unit, because almost every army could throw another unit at that same unit.
Dark elves are very well suited for them as they have units that have different speeds and a core unit that is fast cavalry.
Though ogres are not as well suited for playing MSU as dark elves are, they can manage to pull it off, because of abilities, which dark elves donít have.
But enough about them, letís talk ogres.
Reason to play MSU
Ogres are one of the few races in Warhammer, that cannot rely on their own static combat resolution.
This is especially the case in the 7th edition, because of the extra model we have to carry to have a second rank.
Hordes armies can have ranks per 30 points. That means for every bull you have to use, they can have another rank.
For ogres to have a second rank of bulls, it means you have to have a unit of at least 300 points and you only have +1 CR (Combat resolution).
How MSU works
MSU is NOT just about many small units.
Actually the reason you use small units, is that you donít have the points to make big units.
Think about it: if you could make the same amount of units with more models, it would be even more effective.
MSU is all about movement.
If you canít run into the front of a unit like Bretonnians, because the chances youíll lose are great.
Now movement has two different parts:
- movement of yourself
- movement of your opponent
Movement of yourself is obvious, you have to try to get a charge to a flank, take your faster unit like yhetees and make sure you turn up where your opponent doesnít want you to.
Movement of your opponent is a little different.
The obvious way to influence the movement of your opponent is having a unit within 8 inch of one or more units.
Another obvious way is to have units charge you and you flee.
This is somewhat harder, because you have to have a little luck (snake eyes when fleeing is probably not far enough) and your opponent has to charge for you to pull this off.
This is easier of course when your opponent is frenzy or is compelled to charge for another rule.
There is another way of influencing the movement of your opponent.
You use a sacrificial unit and put it in front of an expensive unit of your opponent.
For our example weíll take gnoblar trappers
Heíll have three options:
- Do nothing, which is alright with you
- Try to get a round the unit, which costs a turn and he canít do anything else
- Charge you.
Visual situation of trappers and ironguts beating brets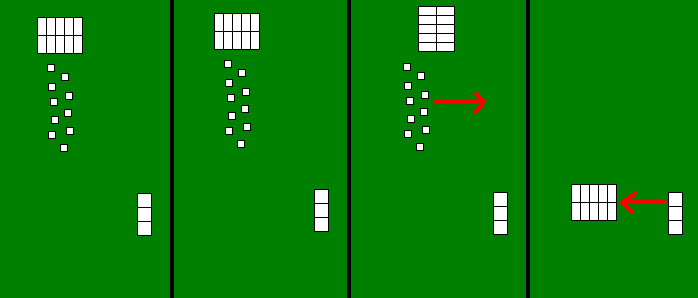 The left situation is the situation when set up.
The last case is interesting, because if the unit has a high movement value, heíll have to finish the charge at one certain point, being exactly his charge distance.
You only have to have one unit of ironguts or maybe even Bulls looking at the flank of your opponent and you use 200 points to take out a lot more.
Example of MSU lists
This is the MSU list Wildcard used in the Grand Tournament
1 Tyrant with luck gnoblar, heavy armour, tenderiser, wyrdstone necklace, longstrider
1 Butcher with dispel scroll, bangstick
1 Butcher with seigebreaker, skullmantle
1 Butcher with 2 dispel scrolls
3 Bulls with bellower and additional hand weapons
3 Ironguts
3 Ironguts
3 Ironguts
9 Trappers
3 Yhetees
3 Yhetees
1 Gorger
1 Gorger
Learning curve of MSU
Few players got MSU well the first time around.
Youíll have to learn how to manoeuvre units, when to flee and when to hold.
Examples of how to use MSU
first example is a charge of two units on one.
second example gives a failed charge, where the other unit flanks the enemy
third example is plain march blocking.
Read Comments
|
Write Comment
Back